BF.direkt AG is an independent specialist for the financing of residential and commercial property projects
Business areas BF.direkt AG
BF.Quarterly Barometer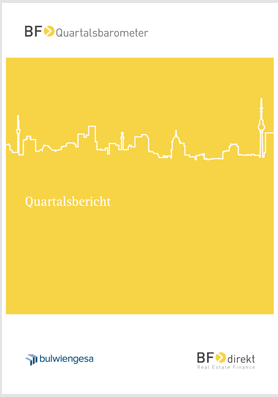 BF.Quarterly Barometer – what the real estate finance industry is thinking
The BF.Quarterly Barometer is one of the most important indicators of sentiment in the commercial real estate finance sector in Germany. It offers detailed insight into the business climate in the industry. The BF.Quarterly Barometer surveys around 110 experts, most of whom are directly responsible for lending to real estate companies. BF.direkt publishes the index, prepared by bulwiengesa AG, every quarter.
References
Property development financing in Brandenburg
Inventory financing in Leipizig
Property development financing in Leipzig
Each year, BF.direkt arranges a credit volume of EUR 1 billion and therefore accompanies an annual transaction volume of more than EUR 1.5 billion. BF.direkt is familiar with all the elements of financing available on the market – whether debt, equity or mezzanine capital.